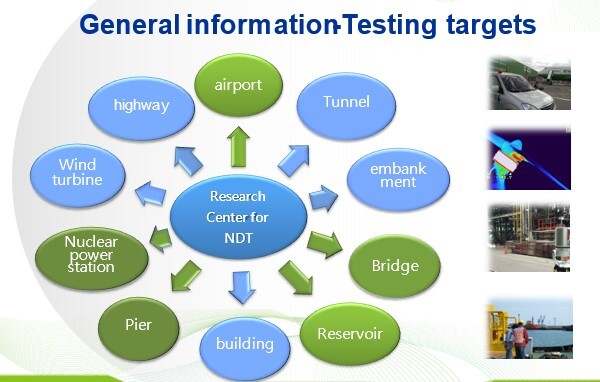 About us
Established in 2005, the Center for Non-Destructive Testing (CNDT) aims on developing non-destructive techniques to assess the degradation or damage of civil engineering relating structures based on stress waves, radar, infrared, microwaves, Lidar, ultrasounds and visual inspection. Conduct R&D or industry-university cooperation projects with government organizations and private enterprises, covering reinforced concrete and concrete-steel composite structures, bridge vibration monitoring, tunnels, airport runways, embankments, underground pipelines, wind turbines, and integrity of foundations. In response to the increasingly serious problem of old and deteriorating infrastructures, CNDT develop a "NDT enterprise program" to offer students courses relating to theories and practices of various NDT techniques. Each year, more than 200 undergraduate students participates the program.
Fields of expertise
Research and application of non-destructive testing methods related to the safety and durability of civil infrastructure, and building, and the quality assurance of the repaired structures and new materials.
Establish the key mechanism for post-disaster emergency special inspections, and carry out on-site instant visual and non-destructive inspections of water conservancy facilities after disasters. Provide immediate hazard information to appropriate authorities.

Based on the non-destructive test results,evaluate the service life of the structure and provide the strategies for repair and restrengthen.

Cooperate with non-destructive testing professional elites to formulate domestic non-destructive testing related codes and systematically cultivate non-destructive testing specialists.
Future Plans
Adopt automatic testing, automatic interpretation, and fusion of different detection technologies to improve the speed and accuracy of non-destructive testing.

Use artificial intelligence (AI) to interpret non-destructive inspection information, and develop inspection databases and cloud platforms.

Promote research on the use of augmented reality (AR) and virtual reality (VR) to display inspection results.